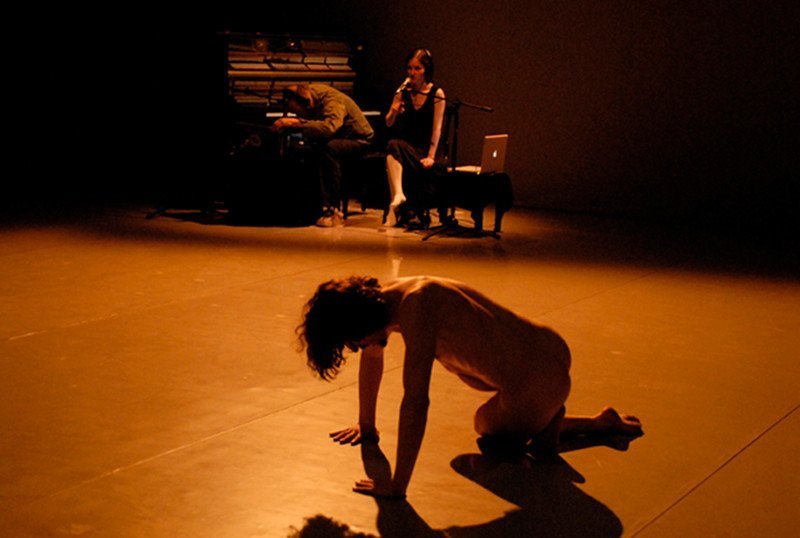 05 Apr

Données immédiates de la conscience
Author word
Extreme experience of my senses.
I entrust my flesh to the movement.
I expose it to a stoning of looks.
I rest, opening, a uninterrupted stream.
Body, frightened crowd, that in the depth of the marrow it transmutes into deafening poison.
The talent of the ache, of the pleasure, speak a intimate language.
Not seeking form but I feel it the air surrounding, hissing that vibrates, the silence… remains.
At the end.
Paolo Rudelli
Cast & info
Distribution:
performer
Paolo Rudelli
original music
Winter Family
piano & harmonium
Xavier Klaine
voice and text
Ruth Rosenthal
dance & concept
Paolo Rudelli
video
Paolo Rudelli
lighting design
Paolo Rudelli  & Ruth Rosenthal
production
Festival Opplà (Italy), Collectif Lick the Toad, Compagnia Corte Sconta
Created 5 Aprile 2006 @ Teatro Out Off Milano on commission by Festival Opplà
Press Review
Nella misura in cui realizza la sua intenzione, espressa con intensità nel testo poetico che lo introduce, Données immédiates de la conscience, in Prima assoluta al teatro Out Off di Milano (5 aprile 2006) è uno spettacolo cui sicuramente riesce il rapimento dello spettatore entro un'atmosfera magnetica, resa tale sia dalla qualità della performance di Paolo Rudelli sia dallo straordinario live dei Winter Family….
read the full article:
Sintesi delle molteplici ricerche che hanno animato il palcoscenico dell'Out Off per tutta la durata della manifestazione, l'assolo di Paolo Rudelli, prima produzione di Opplà, è davvero un punto di arrivo con il quale, non certo casualmente, si conclude la rassegna.
Read the full review here:
La stessa forza evocativa regge lo spettacolo Donnèes Immediates de la Conscience di Paolo Rudelli. Danzatore al Nederland Dance Theater, presentato in prima mondiale al Teatro Out Off e prima produzione di Opplà.
read the fulle review here:
Données immédiates de la conscience – Rivista Musical N°32.